[ad_1]
Saturday, January 19, 2019 11:30 am (GMT + 7)
Two teenage girls pretended to be a manager of their father after he became ill.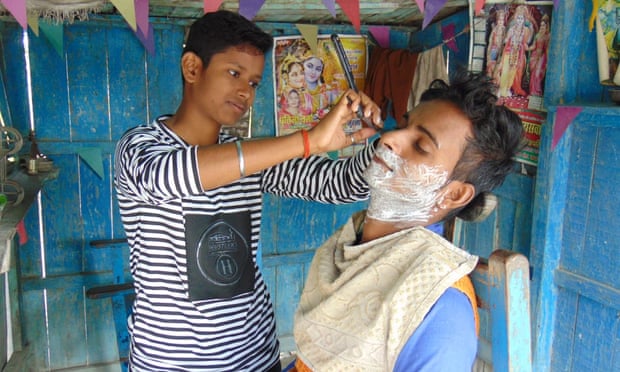 Nehra Kumari is a shaving customer
Jotyi Kumari, 18, and his 16-year-old sister, Neha, took over his father's barber shop at Uttar Pradesh village after becoming ill in 2014. The store was originally closed but then two girls tried Carry on business because it is the only source of income for the family.
The customer then expressed a suspicious attitude about the hair cut and mustache of two young girls, while others behaved indecently with them, Jioti said.
"So we decided to change our looks and costumes so no one could recognize our gender," the girl said.
The two girls had their hair cut short, wearing a bracelet worn by men and called Deepak and Raju. There are about 100 houses in the village and most people know their true identity. However, in the next few years, customers from other villages come to cut their hair and they don't know what we are, Nehra said.
The sister earned at least 400 rupees (about VND 130,000) a day of haircuts, enough to pay for their father's care and support the family.
"We have a lot of trouble when we started working in 2014. People in the village are mocking us, but we ignored them and focused on our work because we had no other choice." Neha said.
To continue their studies, the two girls opened a shop in the afternoon. Jiotei is now graduating and Neha is still in school.
Over the years, they gradually revealed their true identity to customers. "Now we have enough confidence and don't feel shy," Neah said.
The two girls also began to catch the long hair.
After a close journalist from Gorpora City, a story about two sisters in a Hindi newspaper was published this week by government officials.
Abhishek Panda, an official said, is a great story about how people face difficulties in life. "They inspire society and this story must be told the public," Pandi said.
[ad_2]
Source link