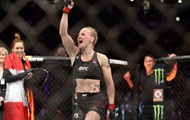 The fight lasted all allotted five rounds.
UFC flyweight champion Valentina Shevchenko successfully defended her title against Brazilian Jennifer Maya at UFC 255 in Las Vegas, USA.
The action was carried out all five rounds, after which the native of Kyrgyzstan won by unanimous decision.
Valentina immediately seized the initiative and, after the first exchanges, transferred her opponent to the ground. The champion tried not to force events and caused the head just blows.
Then Maya tried to push her opponent to the net, but she successfully neutralized all attempts of the Brazilian. In general, Shevchenko was much more successful in standing and, when needed, controlled Maya on the ground.
For Valentina, this was her fourth title defense. The girl won 20 victories in MMA with three defeats. Maya lost for the seventh time in her career with 18 wins.
Source link