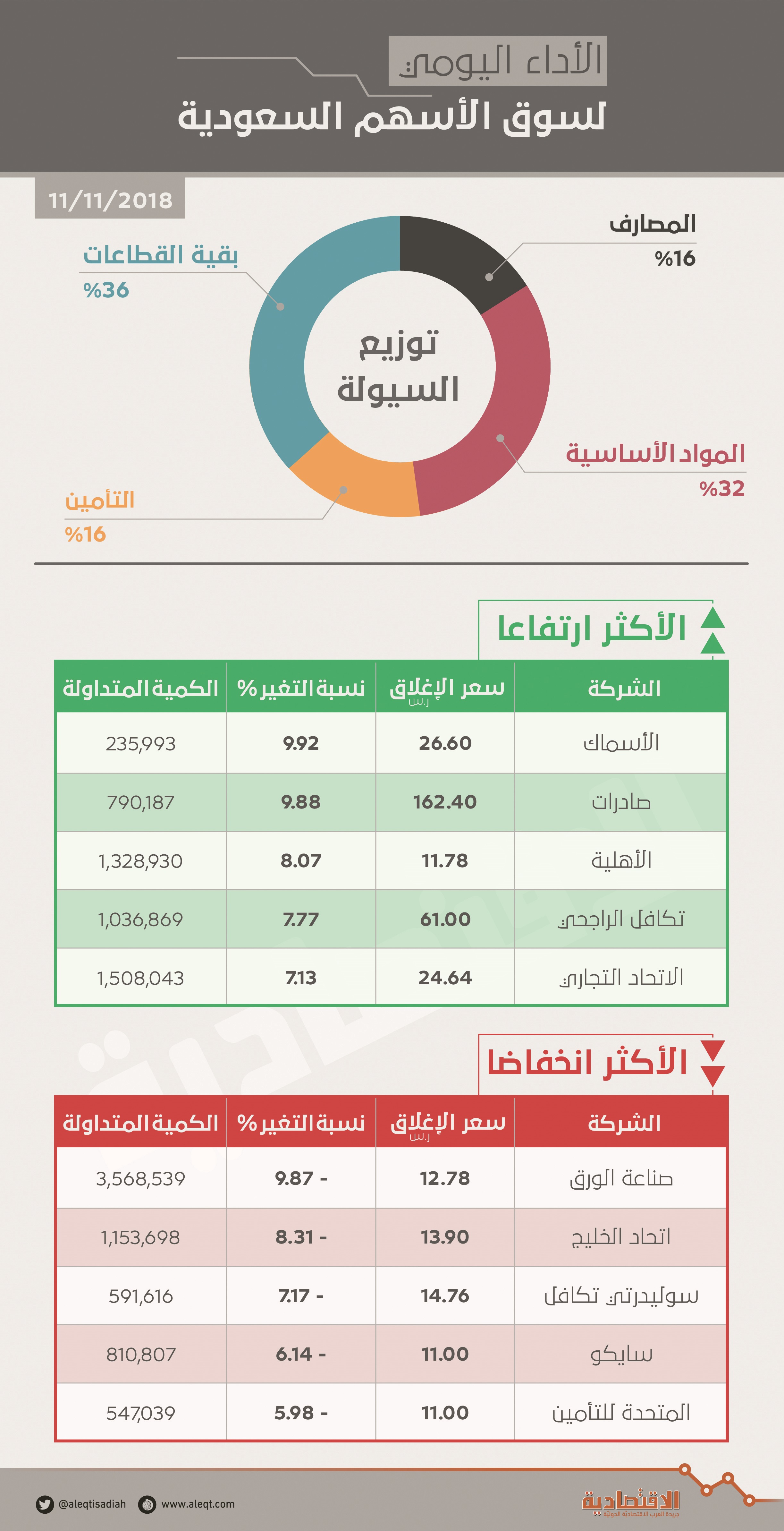 Saudi shares fell 32 percent, lost 0.42 percent and ended with 7,711 points, while market value fell by five billion riyals to reach 1.83 trillion riyals. The fall came under the pressure of the banking sector led by Al-Rajhi. The market lost about 1% during the session, but the index was able to recover most of the losses in order to regain the support of 7700 points, while the positive signal could continue at today's session. At the time of preparing the report, eight companies did not publish their financial results, as consolidated profits reached 89 billion riyals for a nine-month period of 1 percent growth, while in the third quarter they reached 32 billion riyals by 1 percent. The market still maintains its 12-month profitability 17 times, making the market reach an acceptable price level compared to a 16-fold average.
Total market efficiency
The general index opened with 7743 points and went to the lowest point to 7657 points, losing 1 percent. At the end of the session, the general index closed at 7,711 points, lost 32 points, or 0.4 percent. Liquidity increased by 3 percent to 72 billion riyals to reach 2.7 billion riyals or 24,000 riyals. While the shares traded remained unchanged and reached 123 million shares with a share of 0.23%. Bids increased by 8% to 112,000.
Performance of the sector
Five degrees rose against the rest. "Media and Entertainment" increased by 1 percent, followed by "investment products" by 0.9 percent and "insurance" by 0.5 percent. While the decline in "property management and development" was 1.6%, "commercial and professional services" followed by 1.2% and third "medicines" by 1%.
The highest turnover was "Basic Materials" by 32 percent to SR 875 million, followed by "Insurance" by 16 percent to SR 430 million and "Banks" by 16 percent to SR 425 million.
Share capital
Fish was the highest profit at SAR 26.60, followed by "export" for maximum closure at SAR 162.40, "El Ahlia" third, with 8% closing at SAR 11.78. On the other hand, the paper industry declined to a maximum of 12.78 riyals, followed by the Gulf Alliance by 8.3 percent to close at 13.90 riyals and the third " Solidarity Takaful "by 7.2 percent to close at 14.76 riyals.
SABIC reached the highest turnover of 260 million SR to 10 percent, followed by Al-Anma (9 percent) with 256 million SARs and 122 million SARS (4 percent).
* Economic Reporting Unit
Source link