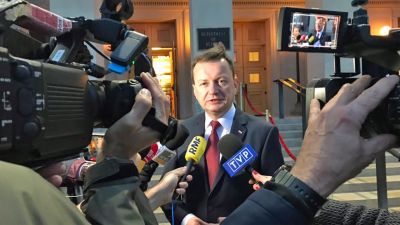 Our proposal regarding the continued presence of US forces in Poland was well received by the Pentagon, we are moving forward in this matter – said the Minister of Defense Mariusz Błaszczak after meeting Pentagon leader James Mattis.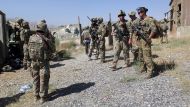 Błaszczak: I will try to recommend the Fort Trump claim
The construction of a permanent base of American soldiers in Poland, called the Fort Trump Working Group, will be the main topic of Tuesday's talks between Mariusz Blaszczak and the Minister of Defense …
more
Minister Blaszczak stated that he met concrete with concrete proposals regarding the Polish project of a permanent US base in Poland. – We heard the first Pentagon reviews, in this case, we are moving forward, but it should be emphasized that we are in the process, so nothing will happen at once – explains.
The head of the Ministry of Defense emphasized that it was only for the second working meeting in this matter, so it is necessary to talk about the details beforehand. – Our meeting today was a discussion of details within the working group. We have a meeting for further talks on the US base in Poland – he explained. – Permanent bases in Poland, the presence of US soldiers on the eastern edge, cooperation in NATO is very important deterrence for each aggressor – he admitted.
Good atmosphere
He added that the atmosphere of talks with US partners is "good". – Our common goal is security – my security of Poland and the security of the United States all over the world because the US is acting on a larger scale than Poland – he said.
This is Blassek's second meeting with his US counterpart and his fifth visit to Washington since taking office as head of the ministry.
Before the Pentagon talks began, Błaszczak met with Republican Senator Arizona John Kylem, who was elected to the Senate instead of John McCain, who died in the summer.
Prior to a meeting with Matt, the head of the defense ministry announced that the main topics of his discussions in the Pentagon would be the issue of the permanent deployment of US forces in Poland and the subsequent purchases of US military equipment by Poland.
Two weeks ago Błaszczak also spoke in Washington with the expansion of the US presence in Washington with John Bolton, adviser to President Donald Trump, on national security.

source:
PAP, TVP Info