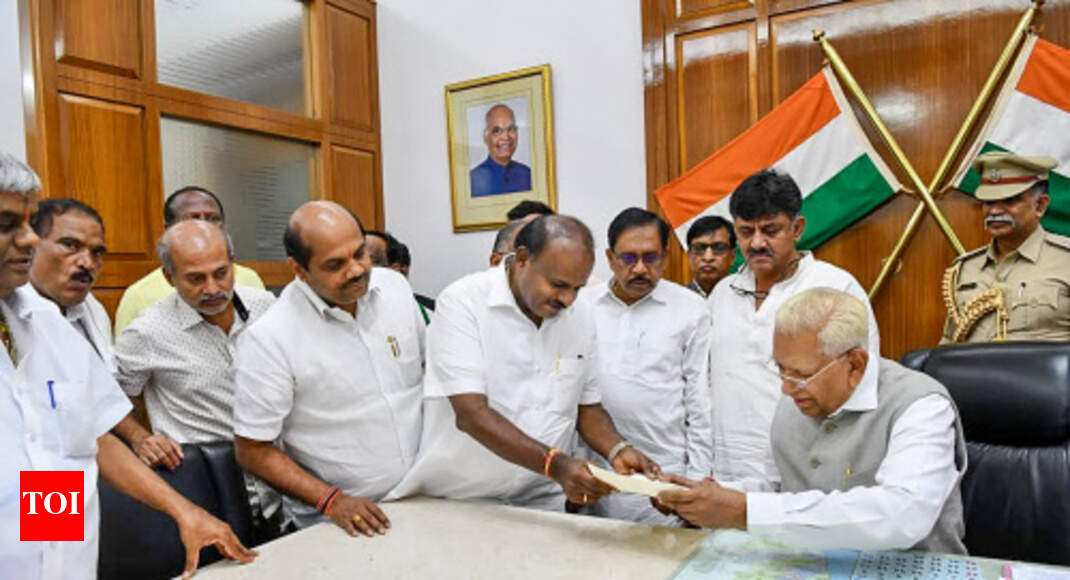 [ad_1]
BENGALURU: JD (S) turbulent tenure – Congress's government came to an end on Tuesday, just 14 months after taking office, after the coalition lost the trust vote by Prime Minister H Kumarasvami 99-105. It brought curtains on 18-day political drama and paved the way for the formation of a BJP government under BS Yeddyurappa.
Twenty voters, including two individuals, 15 rebels and the only BSP member, abstained from voting. The BSP MLA is immediately dismissed from the party by possibility for ignoring its directive to vote for the ruling coalition.
With the exit of Kumarasvamy, the JD (S) -constrict combines, the fifth coalition government is to pass before your term in Karnataka, and has the state's record of enduring any coalition for its full-time scholarship. Police have imposed the CRPC's Section 144 prohibition orders across Bengaluru for two days to ensure that there is no unhappy incident.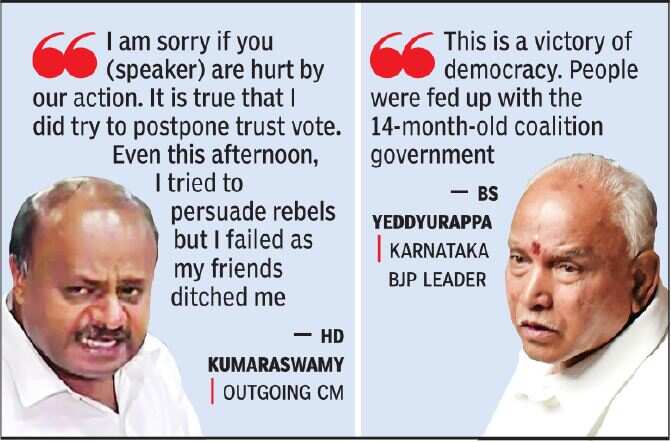 Even though he realized he didn't have the numbers, he emphasized a voting part in a proposal to build a case against the rebels. Both Congress and JD (D) have moved disqualification petitions before speaker KR Ramesh Kumar and the process is expected to be received on track once the Supreme Court decides on the issue. On Tuesday, the apex court said it would wait and wait before deciding on plies associated with the trust vote and the issue of party VIPs.
Shortly after losing the floor test, Kumaraswami drove to Raj Babhan and resigned to Governor Vajubai Walla around 20:00. Walla asked Kumararawami to continue in office until alternative arrangements were made. Yidurapapa is expected to be released on Wednesday to form the government.
The speaker has so far reserved his decision on the resignation of the mules and the disqualification. On Tuesday, he met the lawyers of MLAs who were looking for four weeks to appear before him. KPCC president Dinesh Gundurao said: "Our lawyer has argued for our speaker over the disqualification petition. Those who have betrayed us will stand to receive disqualification. This is a suitable case for the anti-defect law. "
Former Congress MP vs Ugrappa said the Congress (S) had rebelled against the party's membership and had told the speaker. "There are eight petitioners in which 16 million are involved. The speaker has issued a notice to all rebel users saying it will be an End-anniversary Hearing on the disqualification. In the name of them, some of these lawyers appeared and argued that the disqualification of petition could not be delayed, Eugene said.
[ad_2]
Source link