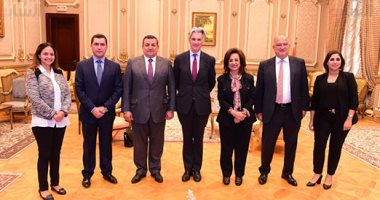 [ad_1]
Dr Dalia Yousef, head of the Egyptian and British parliamentary group, said that the Egyptian parliament delegation, members of the group, will visit Parliament in the second week of November in Britain.
An exclusive statement on the seventh day, Youssef said that the Egyptian-British Parliamentary Group will hold meetings in London and outside the British Parliament. "Non-governmental communication between countries should be extended to all sectors and sectors to understand more common issues and challenges, understanding the nature of our societies, and correcting misconceptions."
"During the visit, we will not be able to see our activities during the visit to the British Parliament and visit the universities, research centers and students of intellectuals outside the Parliament outside of Parliament, as well as exchanging information and experience in health and education" "said Dalia Yusuf.
The British-Egyptian Parliamentary Friendship Association, led by Deputy Foreign Minister Dalia Youssef, met on Thursday with Jeffrey Adams, Britain's new Ambassador to Egypt, in the House of Representatives, this is the first meeting with the British Ambassador after taking up the job. Zakaria Mohi El Din, Usama Heikal, Mostafa El Sallab, Yasmin Abu Talib Ingy Mourad, members of the Egyptian-British Parliamentary Friendship Association.
[ad_2]
Source link