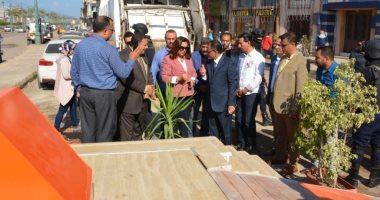 Dr. Manal Awad, governor of Damietta, reviewed the model of the landfill site, carried out by the local unit of the city center of Damietta and the town of Al Aasar. The idea behind this model is that there are many underground boxes.
Dr. Manal Awad praised this model, which will significantly change the cleanliness system, which will reduce the accumulation of garbage on the streets, which will help to improve the entire cleaning system and increase the appearance of civilization and beauty.
The Governor called for an immediate start to the study of the repetition of this model, especially at schools and hospitals, in order to preserve the health and safety of students and patients, and to emphasize the sponsorship of all positive ideas to address the problem of rubbish and pollution control.
Governor Damietta also made a surprising visit to the headquarters of the local unit in the village of Riyadh, which monitors progress in work and guarantees the quality of service for citizens, and notes the absence of the head of the unit and the director of the engineering department and the existence of undetermined routes in missions and the existence of a large number of removal decisions examples of interventions So far, agricultural land has not been implemented and decided to contact the head of the local unit in the village and the director of the engineering department and the secretary of the legal affairs unit at the General Court of Investigation.
On visits to the village, the governor visited the Ramadan Primary School 10th, where he monitored the progress of the educational process in the classroom and instructed the school director to educate students about the importance of rationalizing water consumption and not neglecting the cleanliness of the school.
Source link