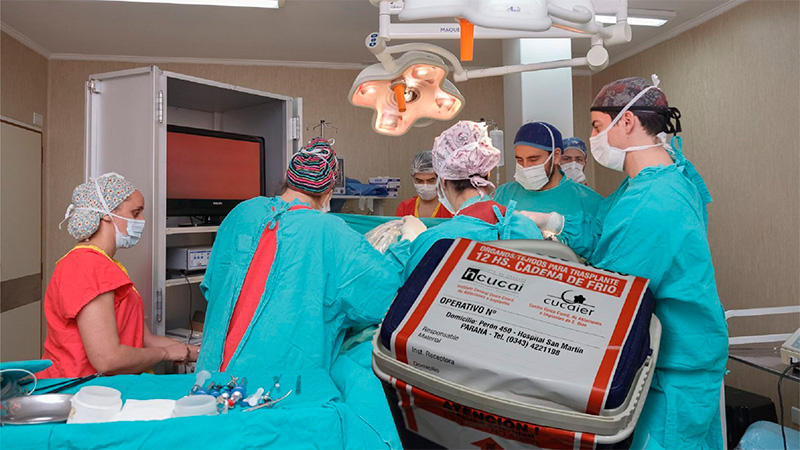 [ad_1]
Three donations were made in the first two days of 2019 in the San Martin de Paraná Hospital, two of only tissues; And the third of organs and tissues. Through the expression of solidarity on the part of the donor families, there are eight patients who benefit from kidney and transplantation.
It should be noted that the donated corns have been evaluated since the end of 2018 in the Ocular Tissue Bank of the Single Center Coordinator of Ablation and Implantation of Entrance Rio (Cucaier), significantly improving the time and logistics required in favor of people at that time. Waiting list.
There were two families, who still lost a loved one, serving their lives by donating the corn to help the people wait for the transplant list of the Central National Institute, Coordinator of Ablation and Implant (Incukaa). Meanwhile, on Tuesday, January 2, at dawn, before the inevitable hospitalized in-hospital treatment of an adult patient, the donation of organs and tissues took place.
According to reports, in all three cases these families were informed and accompanied the Cucaier Transplant Coordination Unit in the capital of Entre Ríos, one of the six units with which the Entrerriana Transplant Network is affiliated with the Ministry of Health of the Province. These professionals are specially trained to help cope with the noble family situation that occurs at the start of the duel, providing all the medical and legal information needed to pass this time around.
"The experience accumulated in years of work in family accompaniment makes it clear that the Donation does not only benefit transplanted people but also donor families that, by passing days and weeks, feel comforted by the safety of being able to help people Also suffer, "highlighted by the British.
In the end, they argued that the Caucasians spent the cornice at the Santa Lucia hospital in Buenos Aires, but since the new province was put into operation, the time and operation were optimized for the needs. Of these patients. Waiting for a corna for transplant.
var magnificPopup = $.magnificPopup.instance;
(function(d, s, id, twid) {
var js, fjs = d.getElementsByTagName(s)[0];
// fb + common if (!d.getElementById(id)) { js = d.createElement(s); js.id = id; js.src = "http://connect.facebook.net/es_LA/sdk.js#xfbml=1&version=v2.0&appId=696163903740665"; fjs.parentNode.insertBefore(js, fjs); }
// +1 js = d.createElement(s); js.src = 'https://apis.google.com/js/plusone.js'; fjs.parentNode.insertBefore(js, fjs);
// tweet if (!d.getElementById(twid)) { js = d.createElement(s); js.id = twid; js.src = '//platform.twitter.com/widgets.js'; fjs.parentNode.insertBefore(js, fjs); }
}(document, 'script', 'facebook-jssdk','twitter-wjs'));
[ad_2]
Source link