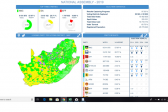 [ad_1]
With the vote counting and capturing total in South Africa's nine provinces, the African National Congress (ANC) remains firmly in the lead in the national elections.
The weeks of all watched Western Cape, Northern Cape, North-West and Mpumalanga districts were captured at the Independent Electoral Commission of SA (IEC) output board, while the Eastern Cap was 99.92, Limopo at 99.21 percent, and KwaZulu-Natal. Natal at 98.2 percent.
The previous state trial was slightly slower, with 95.3% of the Walzies, and the most popular folk area, far away, with only 86.72% of the votes, including the score and the catch.
In general, the ANC has 9,511,975 votes so far, translated to a share of 57.67 percent – the lowest party achieved in an election.
The Democratic Alliance's share of the vote stood at 20.71 percent (3,415,152 votes), which, if it continues, means that the party has lost support compared to 2014 when its votes exceed 4 million.
The Economic Freedom Fighters (EFF), only contemplating its second national and provincial elections, continue their political leader's meteoric rise, increasing their share of more than 10 percent or 1.7 million votes. It received six percent of votes in 2014.
The FF remains the official opposition in North West and Limpopo, and has also abandoned opposition status from the DA to MPUMALANGA. The party has increased in all provinces and in many cases doubled its share of the vote.
The other parties in the few-seated clauses in the National Assembly include the Inhatha Freedom Party, the Freedom Front Plus and the African Christian Democratic Party with 567,155 (3.4%) votes, 384,969 (2.3%) and 139,498 (0,85%). ) Agree, respectively.
The arms of the other smaller parties were presented in parliament, while the United Democratic Movement (UDM) is only 0.46 percent of the vote, and the National Freedom Party (NFP) is only 0.3 percent. The parties can only receive one seat, depending on how the vote captures the program overnight.
New kids on this block, the African Transformation movement (74,655 votes) and good (68,678 votes), have, however, exceeded expectations and may receive a seat or two in the National Assembly.
The Cope congress continues its sharp decline in voter support and at 45,171 so far it can go away with just one seat. The African Independent Congress (AIC) is in the same boat, and would likely have to give two of its seats to the National Assembly.
It was unclear when the last waist would be captured on the IAC's system, but the presidents released a statement saying President Cyril Ramafosa would probably visit the center at 6am on Saturday, indicating the official release would only take place. In the last hour of the day.
– African news agency (ANA)
For more news your way, download the citizen's app for IOS And Android.
[ad_2]
Source link